Rajeev Khandelwal: Ahmedabad will always be special to me
Shruti Jambhekar,TNN | Apr 11, 2015, 11.50 AM IST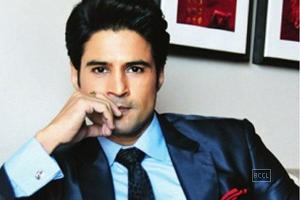 Rajeev Khandelwal
During a recent trip to the city, Rajeev Khandelwal talks about what he misses the most about Ahmedabad, his significant other and more in a chat.
You have spent your formative years in Ahmedabad. What do you miss the most about the city?
Ahmedabad has changed so much over the years! It feels like a whole new city. I miss Ritujraj's
Muska Bun
, spending time at my college campus, the cool canteens of my college and CEPT. I also miss hanging out at Law Garden, Municipal Market or catching a movie at Drive-In. There's so much that I remember about this city...some of my very good friends are from this city. I experienced my first crush here. Last year, when I was in Ahmedabad, I met a few of my school teachers and the love they bestowed on me made me feel truly special. Ahmedabad will always be very, very special for me.
You are back to doing fiction TV after a considerable gap.
TV is a huge medium now. People around me were constantly asking me if I was making a comeback to small screen ever or not. But post
Sach Ka Saamna
, nothing really exciting came my way . Although, last year a concept was narrated which was interesting, but things didn't work out. As an actor, I don't want to repeat myself (in any character or concept).Unfortunately , that gave some people the impression that I was not willing to do any TV .
So what made you take up Reporters?
It is such an interesting concept. The show revolves around the challenges that television journalists go through and talks about how news is made. I don't think any Indian TV show has really talked about this before. Plus, over the years I have made many friends from the media, and I was curious to find out what keeps them going.
Reporters
has a refreshing and interesting concept. As an actor I like to completely devote myself to a show.Thankfully , this is a finite series which made it easier to do. I also feel the treatment of a finite series is more focused.
Coming to movies, why are you so selective about them?
When I decided to do movies, I wasn't thinking much. But after
Aamir
,
Shaitan
and
Table No 21
, I realized that I'd always like to contribute to new concepts. I don't want to be part of typical run-on-the-mill movies. It's a choice I've made for myself.
Tell us what do you enjoy doing apart from acting?
I love to travel, that too within India. I have been going to Goa very often as I have a house there. Besides that, I enjoy my trips to Himachal Pradesh. I am very fond of trekking, camping and adventure sports. Manjiri and I look forward to such trips.
How has your bond with Manjiri evolved over the years?
I think we have become more stable as a couple after four years of marriage. You know when you're dating, there are some insecurities, but now, our relationship is in a peaceful zone. I still look forward to seeing her when I'm back from work. I also like travelling with her. Our relationship is stronger now.
You're so grounded inspite of such a huge fan following...
I think I am as normal as any other person. It is sad that some actors feel that they are privileged and think that gives them the right to throw starry tantrums. This in turn makes people assume that every actor has an attitude problem. I think I'm blessed to have fans who have showered me with so much love.
After 13 years in showbiz have you made good friends?
In any profession, you will make a handful of friends. I have some close knit friends from the TV industry on whom I can bank on at any point of time. I'm lucky they are part of my life.
http://timesofindia.indiatimes.com/tv/news/hindi/Rajeev-Khandelwal-Ahmedabad-will-always-be-special-to-me/articleshow/46886179.cms
---